Hey, with all the Mod updates lately, I've overlooked one of my anniversaries. I'll make up for it now as a kind of annual review.
The anniversary? One year ago (exactly on 14.12.2019) I posted my first Mod! How time flies. It was the first part of an audio Mod for the game My Sister, My Roommate. I have stopped that in the meantime (the game got music by itself), nevertheless parts of my first attempts can still be found in today's Mods (for example my script markers "KoGa3 START" / "KoGa3 END". Also some music and audio effects from back then are still used by me.

Well, and in the meantime I have made more than 30 Mods… Also some new features like cheating, walkthrough, renaming, Jukebox etc "were born" since then and are often implemented in my Mods.
And for over half a year now, a kind of trademark has also become "the norm" for me: my Mod functions are almost always optional and can be changed during gameplay, too. Therefore I had to make an ingame menu for that, here an example (from Defending Lydia Collier):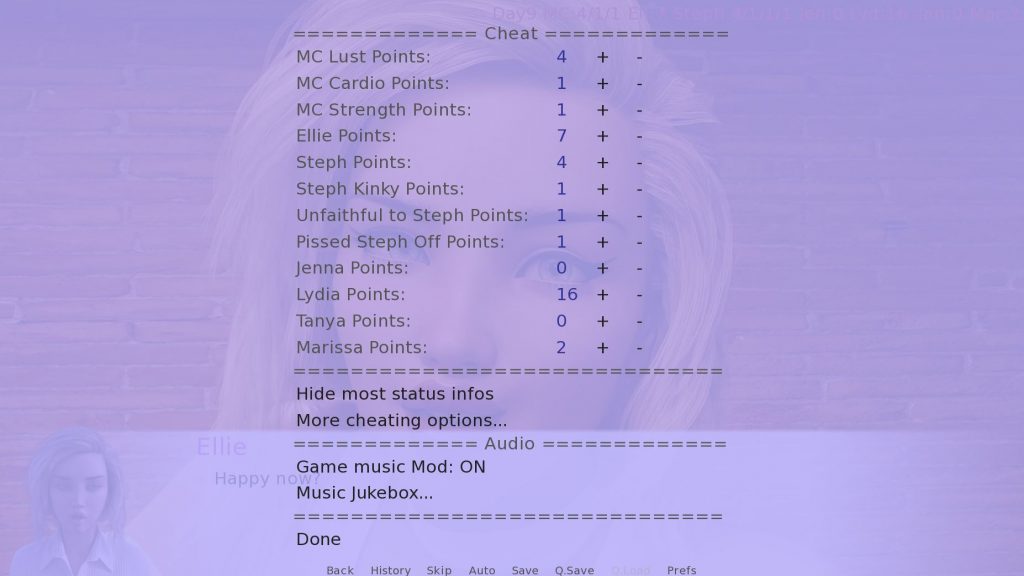 Nevertheless, my "core focus" is still audio integration in games. Funny: all the cheat and walkthrough functions actually only resulted from the fact that I needed them myself for testing my Audio addons in the games.
In the meantime, I've also made some (few) progress in Ren'Py, yet I'm still only a beginner with some experience. But it's still a lot of fun for me and of course I'm even more happy if some others like my work as well.
---
So, now I wish you all in advance a happy new year 2021 and please stay healthy!

Yours
KoGa3